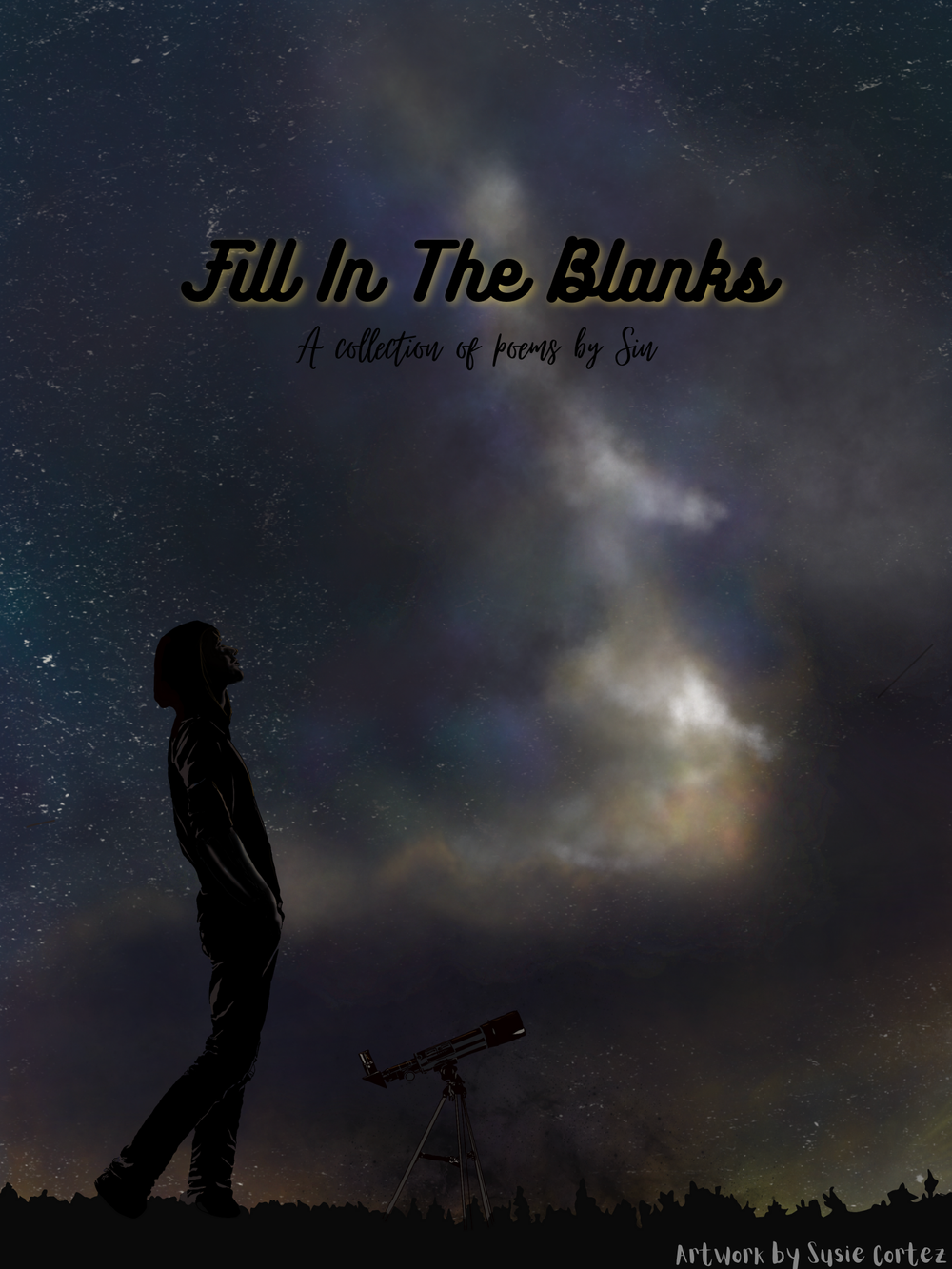 Fill In The Blanks is a follow up to my project Therapy, released in 2017.
I often refer to that project as my "woe is me" project because it has quite a few heartbreak poems in it.
In the 5 or so years since I have gained new perspective and given more thought to a lot of what I wrote about, and wanted to revisit it one more - hopefully final -  time. 
This is my first collection to include some all Spanish poems! 
It also includes quite a few sonnets. I went through a phase where I was doing free writes of both to get better at sonnets and more articulate in Spanish.
It has some beautiful artwork by my friend Susie, you should definitely go check out her work and give her a follow ! The cover of Therapy was a constellation, and so I thought it only fair to follow it up with me still looking up there.
It was edited by Mariana Franco, who you can find here and here
And published by Not Just Just Alphabets, ran by AJ Houston (who also published Therapy!)
The project starts out with a couple quotes that I love, and the theme overall is about how much of our relationships are about the stories we tell ourselves around the true events, rather than the facts of the matter.
The second quote at the beginning of the book is an illustration of this, and comes from this episode of one of my favorite shows that explores how memories can be altered or implanted.
Our minds are little "Fill In The Blanks" machines. And at the end of the book, I try to explore all the different stories I was telling myself to "Fill In The Blanks" when I was lacking some closure. 
We can not only get lost in these stories, but lost in the past, which is ultimately what I think I was very guilty of. There's a reference to this throughout the book, including in the poem titled "Beautiful, Fool", which is a play on a quote from The Great Gatsby: 
"I hope she'll be a fool—that's the best thing a girl can be in this world, a beautiful little fool."
And funny enough, I learned I share a personality type with Mr. Gatsby ! I recently took this personality test, and learned I am an INTJ-T ; also called a "Turbulent Architect".
When explaining their reasoning for categorizing Gatsby as the same in this article, I came across an interesting quote: 
"Gatsby is a dreamer, constantly envisioning a better future for himself and focusing on what is possible, rather than what is practical. Like many Intuitive personalities, he often seems somewhat distracted or detached from what's happening around him. Nick can see Daisy's flaws, but Gatsby can't – or won't.
This is a common challenge in Architects' romantic relationships. They're always creating a world in their heads that is more perfect than reality, and they need their romantic partners to fit their fantasy in some way. Daisy is not up to the task, and she knows it." 
There is so, so much more I could write about this project and all of its significance to me. I may return and update this in the future and add more stories behind it.
But, in the meantime, please sign up for my email list and I will give you a free ebook copy so you can check it out! And, if you'd like a paperback, you can buy a copy here
This is also a great way for you to reach me with your thoughts, and even your personality type if you'd like to join me in taking that quiz!
I hope you enjoy the book! Talk soon.
- Sin